Page 4 of 4 •

1, 2, 3, 4

I was very lucky to have owned the 1999 version of Pajama Sam 1, considering that it was extremely rare nowadays due to the infamous "Dutch-speaking well" error!  
My copy of said version is a 2000 reprint sporting a full-color label with Sam testing out his Illuminator Mark V Jr. flashlight in his bedroom.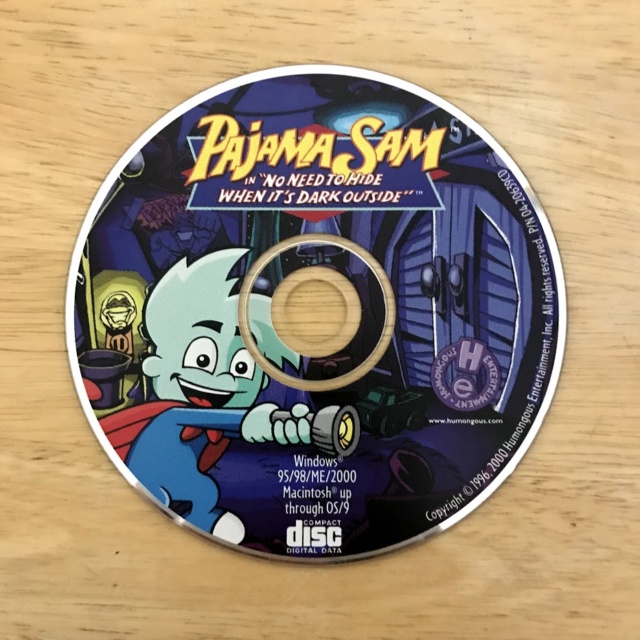 I also have the 1998 version of Freddi Fish 1, which is also a 2000 reprint sporting a full-color label with Freddi and Luther inside the three caves (the one on the right).
Last edited by zacharynoah92 on Tue Jul 10, 2018 5:27 pm; edited 1 time in total
@Retrodude

wrote:

GeorgeQGreg wrote:I actually remember seeing an article from circa 1998 a long time ago recommending use of the TextOn HEINI setting FOR dead kids. So maybe not...

If the kid is dead, there's little chance they'll be able to play the game anyways.
I think he meant to say "deaf," not "dead."
@dellr

wrote:I do happen to have a 1999 version of pajama sam 1.  

 
I have a copy of that exact same version of Pajama Sam 1, too, except that mine is a 2000 reprint with a full-color label with Pajama Sam showing off his flashlight. Here's a picture of my copy of said game.
I have 2 rare disc labels (REPOSTED FOR REUPLOADED IMAGES WITH SMALLER SIZES):
This one is the 1995 release of Putt-Putt Joins The Parade, repressed in 2000 with a image of modern Putt-Putt on it!
This one is the original 1995 release of Putt-Putt Saves The Zoo. It says 1999 but it's the 1995 release as stated. Plus it's box art had Putt-Putt with eyebrows if I can recall.
Adventurer




Posts

: 30


Join date

: 2018-08-12


Age

: 13


Location

: Canberra, Australia



Those are Australian releases, which contain original US versions of those games. And I found a goof on the Australian PPSTZ disc: The word "Saves" is missing a lowercase S. Weird, isn't it? Nice photos!
Adventurer




Posts

: 134


Join date

: 2013-04-11


Location

: United States



Page 4 of 4 •

1, 2, 3, 4
---
Permissions in this forum:
You
cannot
reply to topics in this forum